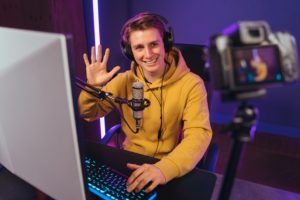 In today's world, the internet and social media have played a crucial role in our lives, as well as in the computer gaming industry. With the development of technology, an entirely new group of personalities has emerged – gaming influencers. Who are they, how can they be leveraged in marketing, what are their characteristics, and how are they categorized? Let's delve into this fascinating topic!
Who are gaming influencers?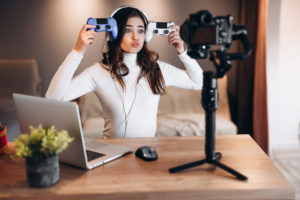 Gaming influencers are players who have gained significant influence within the online community through their engagement with computer games and the publication of gaming-related content on platforms such as YouTube, Twitch, TikTok, or Instagram. These are individuals who have amassed a large following of dedicated fans, also known as a community. Their ability to engage and inspire other players makes them powerful figures in the world of marketing.
According to data shared by the Digital Marketing Institute, 49% of consumers make purchasing decisions based on influencer recommendations. Additionally, the results show that 40% of respondents admitted to purchasing a product after seeing an influencer using it on platforms like Twitter, YouTube, or Instagram.
How can gaming influencers be utilized in marketing?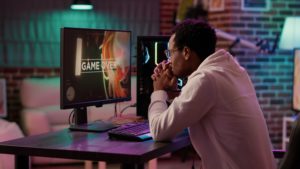 Utilizing gaming influencers in marketing strategies is an incredibly effective way to reach a young, active, and engaged audience, which is often difficult to access through traditional advertising channels.
Sponsored content: Companies can collaborate with influencers to have them promote their products and services during their streams, reviews, or social media posts.
A good example is CD Projekt Red, a Polish company known for producing computer games such as "The Witcher 3: Wild Hunt" and "Cyberpunk 2077," which partnered with popular gaming influencer IzakOOO. As part of this collaboration, IzakOOO conducted streams, reviews, and gameplay sessions of games developed by CD Projekt Red, showcasing various aspects of gameplay, storyline, and unique features of these productions. The influencer actively promoted the company's games on platforms like Twitch and YouTube.
Events and contests: Companies can organize special events or contests in collaboration with gaming influencers, attracting the attention of their communities and building a positive brand image.
As an example, Epic Games, the publisher of "Fortnite," collaborated with popular streamer Tyler "Ninja" Blevins to organize the "Fortnite Celebrity Pro-Am" tournament. During this event, celebrities, athletes, and gaming influencers competed alongside professional gamers in a "Fortnite" tournament. This action captured the attention of a wide gaming community, increased the game's popularity, and strengthened "Fortnite" as an esports brand.
Participation in advertising campaigns: Gaming influencers can become the face of a brand's advertising campaign, conveying the message to their audience.
A recent example is the campaign "REIGN IN GAMES," a collaboration between Black Energy Drink and Next Level Agency. During this campaign, influencers like Kaftann, Kromka, Lucek, and many others created gaming tutorials for various games, aimed at helping new players find their way in the games and intriguing veteran players. The project aimed to showcase the brand within the gaming world and was well-received, gaining nearly 5,000,000 views within 5 months.
Reviews and recommendations: Influencers can review products from the gaming and technology industry, influencing the purchasing decisions of their fans.
An example is Unbox Therapy. The channel's host reviews products from the technology industry, aiding viewers in making purchasing decisions, resulting in an average of one million views per video.
Streaming and gameplay: Companies can support influencers during their streaming sessions or participate in their gameplay, thus gaining exposure to a broad audience.
A case in point is Razer, a gaming accessories manufacturer, which supports various influencers during the organization of tournaments and gaming events. For instance, during the well-known gaming event E3, Razer invited popular streamers to participate at their booth. These influencers had the opportunity to test Razer's latest products and stream their gameplay, attracting the attention of visitors.
What categories do gaming influencers fall into?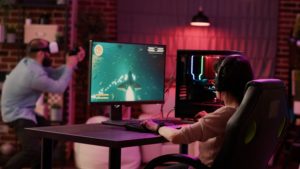 Gaming influencers can be divided into several categories based on the content they create and the communities they attract:
Gaming YouTubers: They create video content such as gameplay videos, tutorials, game and equipment reviews.
Streamers: They live-stream their gameplay on platforms such as Twitch or YouTube.
Esports players: Professional gamers who compete in esports tournaments.
Social media content creators: They publish short videos, images, and memes related to games on platforms like Instagram or TikTok.
Summary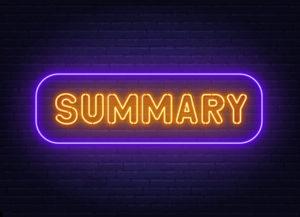 Gaming influencers are a crucial element of today's computer gaming market and serve as incredibly effective marketing tools for companies in this industry. Their authenticity and engagement in games attract a loyal community that can be a valuable advertising target. However, in order to achieve success, collaborations with influencers must be well thought out and aligned with the brand's values to yield tangible results.